Team Boudoir
Hello there! I'm Emma Jones, a hugely passionate boudoir photographer, lingerie addict and admirer of all things antique and in possession of history. My right arm woman is Danielle Horan, a professional hair and make-up stylist, expert listener, conversation artist and maker of a mean curry!
You can catch up with Danielle further down this page but firstly, lets start with your photographer, moi! Now I do admit, there is a lot of info coming your way so if you want to know about the person who is or may be undertaking your delicate natured photos, please read on...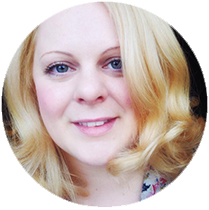 Emma Jones
Boudoir photographer, artist and general magician
Emma - The Person
I'm partner to a wonderful, supportive man and daughter to the worlds most amazing mum and dad who've helped make my fantastic job possible. I've been a professional photographer since 2003 and went fully into boudoir in early 2007. With the help of my family and close friends, we created a small luxury paradise of a studio and it all grew from there. Now 8 years later I have a much larger studio, which I believe to be one of, if not the most creative vintage boudoir parlours going. Boudoir is my life so I gave it my all and no expense has been spared.
I'm a perfectionist. It's a good and bad quality all rolled into one. I spend far too much time making sure perfection is achieved in everything I do than I probably should, or maybe I actually should?? Who knows but I can't change it and probably wouldn't if I had the option.
I love vintage, anything vintage but even better if it's antique! I love opulence for my boudoir and then cosy, old rustic-ness for myself. My favourite periods in history due to their style are Tudor, Georgian and the 1920's to 30's.
I hoard and collect everything, my office is floor to ceiling with props in boxes and I can't bring myself to get rid of any, even if they haven't been used for 3 years because it's always that "what if?" I may need it all of a sudden!
I love good food but rarely have time to cook (to my detriment) but I'm slowly making progress to a healther Emma and the help of my juicer and lots of fruit/veg :D
Now I know I'm bubbly and positive, my clients and Danielle tell me I am very easy to be around because I'm down to earth, what you see is what you get, genuine and real. When writing this text for my about page I decided to ask my past clients for some feedback via Facebook on what they thought of me as a person to be around and during the shoot. I was so unbelievably touched at the comments my ladies left me and you can read the lovely words for yourself here.
By the time I left you I felt like a friend. You make us women feel amazing and relaxed at the same time you have your professional head on xxx
Its hard to put into words what you are as talent because your talent is sooooo immense and so endless and extraordinary!!! You make us feel beautiful when some of us feel like nothing, you help to give us confidence which is something very few of us have had in the first place so i would say visionary creative emotional fairy godmother And yes.... i'd have to agree with the earlier comment about feeling like a friend too
A fabulously fun fire cracker with an infectious giggle who instantly puts you at ease. All the while incredibly professional and an absolute perfectionist in her work!
Want to know more about Emma and her work? Click to read more...
The Artist
I'd like to think my portfolio says everything it should about my photography and skills but in case, below are my own thoughts:-
I consider myself an artist, photography is an art and I paint with light. I have developed my own distinctive photographic style that is bold, atmospheric and alluring while exhibiting my good eye for detail and composition. I'm a creator, not a copier and my purpose is to create photos with a difference, photographs that stand out and are as original as possible. Even my sets, the backgrounds I've painted and scenes I've created, they come from my own visions of what I want and to get across.
Unfortunately I regularly come across photographers work and sets that are a direct rip of what I've created, I'm not talking inspiration, I'm talking a flat out badly done rip. Even my website text, someone is probably reading this right now and hitting ctrl+c ready to ctrl+v and change my name and identifying details. This is something my clients probably won't realise that I and many other togs have to deal with, but it does happen and is something we true professionals can't begin to get our heads around.
I've been told countless times that "imitation is the sincerest form of flattery" but for the person that planned and spent time creating and seeing these ideas though to an image, I can say right now that it is annoying and it gets me down. That's also how I know I'm a true artist and have a real passion for my work, I care about it a great deal.
The Way I Work
I make sure my clients are comfortable, are happy around us and are having a great time. This means I can easily bring out their personality in the photo shoot and capture their real beauty and eyes that sparkle and smile! Retouching and effects are second to this, real beauty comes from within and capturing my clients true self while applying my photographic style is how I create powerful, individual and story telling images.
Remember I said I was a perfectionist, well I must be because I undertake all tasks in my business myself bar the hair and make-up styling. I give all my clients 500% and for this reason I am the only photographer at Miss Boudoir®. I take care of all the image developing, retouching, ordering, admin, emails, brewing up even the cleaning etc. If I start something, I want to finish it.
Would a painter let someone else finish off his paintings?
I'm a photographer and I want to take, develop and retouch my work myself. I want to be proud of my creation, wrap it up nicely and take it to the post office knowing it is safely on it's way to a new home.
This method of working however does come at a price, I cannot take on more than a handful of shoots per week meaning I will never be a affluent sole but as long as I am happy, enjoy my job and can pay my bills then I'm affluent in the most important way.
I'm Your Photographer
I'm the only photographer at Miss Boudoir® to ensure you receive ultimate quality and my own unique photographic style.
I'm Your Retoucher
I sort, hand develop and retouch your images carefully, sympathetically and to the highest standards.
I Package & Post
Making sure your products are beautifully wrapped, bound with ribbon, tailored with gift tags and safely on their way to you.
Me And Boudoir
I don't know where I'd be without the work I do, it is everything to me, my life and I love it to pieces. Not only do I have a job I love, more importantly I have an emotionally rewarding job that I love! I see women come into my studio a nervous wreck thinking they are mad for even considering a boudoir shoot, only for them to leave a completely different, brave, confident and positive person. It's amazing to see and reminds me why I work so hard and what it's all for.
"You build confidence in people and make them feel at ease. And you make sure people are having fun as well as look hot!"
"You are a fellow human who is aware and understands all the possible anxieties women have about the lumps and bumps we imagine we have everywhere. You not only made me feel comfortable but made me laugh and never a second of feeling uncomfortable or self conscious. It's a rare gift and one which brings confidence and joy to people. I've loved both shoots I've had with you and they have felt luxurious and exciting and I'm due another as I'm nearly 40!"
Who Are My Clients?
Mums, wives, grandmas, girlfriends, fiancés, brides, nurses, teachers, full time mums, pa's, office and care workers, dentists, bakers, dog walkers, MMA fighters, fitness instructors, novelists, mechanics, DIY store and shop assistants, vets, dancers, hairdressers, mature students and fellow photographers. The list goes on, my clients are vast and varied, from all walks of life and each as important as the next.
I'm very much a people person, I love the conversations we have, the stories I hear and just generally conversing and getting to know my clients while helping them relax.
"I personally couldn't believe how calm you made me within a few minutes of walking in the door. You are so relaxed, calm and friendly but so knowledgable, trustworthy, reassuring and professional at the same time. xx"
I find we all have at least one thing in common, we don't like something about ourselves! From stretch marks to tummy to thighs to arms, even as far as a wonky chin or a gangly toe! It's good to know we are not alone and these characteristics we are led to believe are flaws, are in fact very much normal and human. That's not to say we want them all blatantly staring at us in our photos, most ladies want a little polish up but being aware that they are normal goes a long way to acceptance!
The Equipment I Use
My main camera is a Hasselblad offering my clients the best quality possible and a selection of Canons as backups. In the studio I use Bowens flash lights with accompanying modifiers and a mix of Interfit tungsten lights to enhance my naturally lit set-ups.
My History
After leaving school in June 1999, I furthered my education at Tameside Technical college from September 1999 - June 2003. I undertook a GNVQ Adv in Art & Design covering fashion, graphics, 3D, Photography, drawing and painting and A Level Photography. After completing my A-Level I went on to study HND Photography and qualified in 2003.
With very few jobs around for photographers and constantly being turned down for assistant roles I decided to become self-employed and start taking photos! I undertook model portfolios, actors head shots, edgy portraits, wedding photography (freelance 2nd shooter for Northern Photographic/Unique Weddings), commercial product shots and music photography. Originally I shot on location but had my home garage converted to a studio which I lasted with until the end of 2006 when boudoir started to become more than just a dream.
Longing to follow my passion for portraiture and all things vintage, I took the plunge and opened my first vintage boudoir photography studio in March 2007 and it all went from there.
Danielle Horan - My Fabulous Hair & Make-up Artist
My right arm woman in charge of all things none photographic! She is a highly skilled stylist who specialises in fashion, makeover, bridal and boudoir (of course) hair and make-up. She is amazing and does exactly what the client asks for.
She'll advise on the best looks to suit your particular hair cut, face shape and colourings and is on hand throughout the shoot to touch-up, restyle, re-bouf or change the look as needed.
Danielle has styled countless women and having worked for many years in the makeover and fashion industry, knows all the tricks of the trade and she'll let you in on some.
We were introduced in late 2007 by Nina Wren (my hair & Make-up stylist at the time) and when Nina moved to Anglesey, me and Danielle joined forces and became the Miss Boudoir® team!
Since then we have styled and photographed our way around the world with clients coming from Ireland, France, America and even as far as Thailand solely for our fab duo service.
Brides and prom queens in need of a stylist? Visit "The Dan"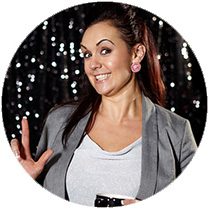 Danielle Horan
Hair & make-up artist, super mum of four and serial juicer