Boudoir Photography Studio
Enter The Boudoir...
In March 2007 we launched our first ever vintage boudoir photography studio in Lancashire, one of the UK's first vintage studios, if not THE first! I happily photographed hundreds of women in there until one day in 2009 I decided it was time to have a refresh and do it all again, just bigger and better!! So that is exactly what I did and in May 2011, Copley Studio which is based in Stalybridge and conveniently on the border of 4 counties (Lancashire, Cheshire, Yorkshire and Derbyshire) opened for it's first clients.
Hidden away inside the Grade II listed Copley Mill is our fabulous, custom boudoir photography studio. As one of the few remaining working mills, I choose to make the most of these beautiful old walls steeped in history that provide the perfect atmosphere and environment for such a vintage inspired studio. Alongside my main 1750sq foot studio are our offices and our second 750sq foot boudoir studio that opened in 2012.
Designed and renovated by myself and my Family, the studio is everything I dreamed and more. It's my own private luxury parlour where I can happily and comfortably offer women the opportunity to be photographed in personally designed, constructed and themed sets including decadent, continental boudoir, Versailles, Victorian, Regency, contemporary glamour and custom scenes that are not attainable in the average home boudoir photo shoot.
Complete with continental, period wall decor, real gold & crystal chandeliers and a cheeky pinch of Hollywood glamour, you'll be swept off your feet and thoroughly charmed by the luxurious, private parlour on offer! Our unparalleled class of boudoir photography setting has resulted in our service becoming so popular that we added a second studio to the Copley HQ in March 2012 to offer even more luxury.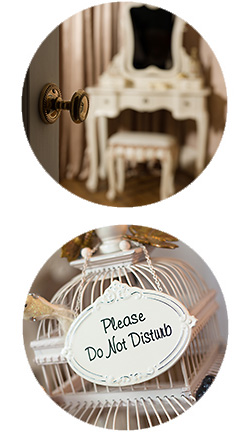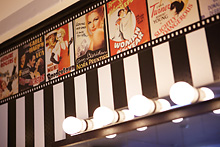 Hollywood
Our hair and make-up styling room is super stylish, a film star setting with famous faces of the silver screen and Hollywood inspired decor.
Trademark mirror bulbs light the way highlighting the classic black and white stripe walls, a piano black floor with a sparkly glitter finish. It is pure retro heaven.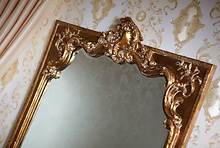 Especially For You
The studios in their entirety are purposefully designed to be all yours from the moment you walk in, to the time you leave with a spring in your step. You won't be sat in a waiting room, have your styling done next to a stranger or meet other clients on the way out, the entire studio premises are yours for ultimate privacy and peace of mind.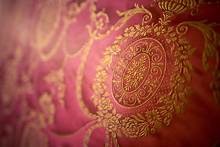 Magical Opulence
It's a world away from the everyday, you'll find escape from the rushed pace of life and feel like you've entered a distant vintage paradise with a dusting of magic. I continue to create, build, decorate and advance my sets on a regular basis to keep it fresh and original and leaving behind the cheap imitations I come across so regularly.
Studio History
2007-2011
In January 2007 I decide to specialise in boudoir photography and needed more space then what was on offer at my home studio. Premises were located and work began! For 2 months it was sheer torture, the soreness, cuts, bruises and fatigue we endured in creating such a bespoke and different setting was hard, but worth it!
By March it was complete! I opened my first specialist boudoir photography studio in Woodend Mill, Mossley. Vintage in decor, opulent, filled with beautiful furniture and props and more importantly, renovated from start to finish by me and my family to ensure it was every bit a reflection of my interests.
The "vintage trend" was relatively small then and being the first vintage boudoir photography studio of its kind, I really wasn't sure if this style would appeal to many, I knew I liked it but would anyone else? It was a total gamble. After a month of being open and seeing the explosion of interest and subsequent demand for my unique styled studio and vintage boudoir photography, any doubts were firmly quashed!
By 2009 my business and client base had grown so incredibly fast that I decided to take on another premises in Grade II listed Copley Mill so I could do more, do bigger and do better... I was hungry to design more sets and have more space!
From April 2009 to June 2011 I spent my evenings, weekends and any free days I had designing, planning, sanding, laying floors, installing fixtures, wallpapering, painting and many many more hard renovation tasks. It was a long project, we had some problems with the first set of builders hired and electric problems that put our work back and destroyed our budget but we persisted, got rescued by an amazing local builder and came out triumphant.
In May 2011 we opened our new, larger and far more luxurious boudoir studio in Greater Manchester to cater for the ever growing appetite for our bespoke style of vintage boudoir photography.
2011-Present
At the end of 2011 it was time again to take on more space at Copley and recreate some of the popular settings I had left behind at Woodend. Using the same amazing local builder and hard graft by me and my wonderful family we gained a new, smaller but seriously flexible studio 2. Being soft and shabby chic boudoir in decor with a hint of French chateau, it's a nice contrast from studio 1's glitz, glamour and continental opulence!